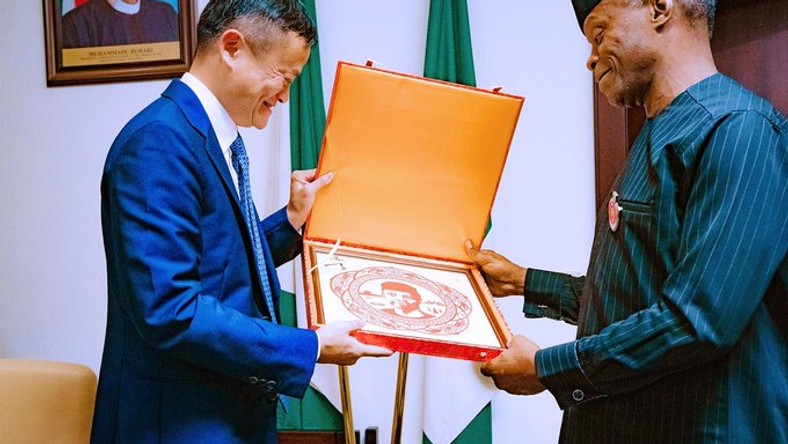 Jack Ma is worth a cool $39bn. As he visits Nigeria, he's looking at some of the ways he can spend some of that money here.Jack Ma with Vice President Yemi Osinbajo in Abuja, November 14, 2019 (Twitter: @ProfOsinbajo)
The co-founder and former Chairman of Alibaba Group (the renowned e-commerce and tech firm), Jack Ma, says he's in Nigeria because the nation's vibrant young people and a 200 million strong market, excites him--and should excite every entrepreneur with some vision.
"I think our team today realised our dreams meeting you. We flew 15 hours into Nigeria and we are excited. This trip is to try to understand Africa more. We came to Africa four years ago and our plan is to visit four, five countries in every trip," Ma said as he met Vice President Yemi Osinbajo at the presidential villa in Abuja on Thursday, November 14, 2019.
Forbes recently ranked Ma as the richest entrepreneur in China for the second time in 2019.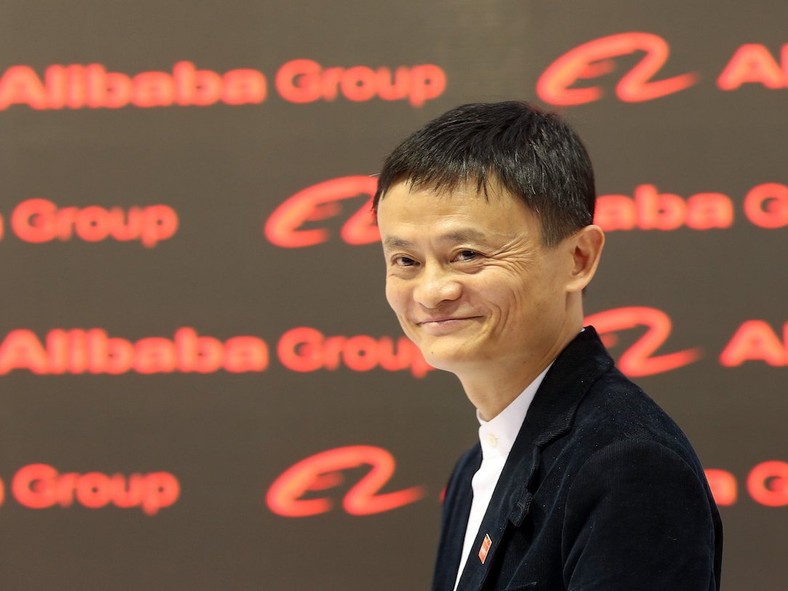 Jack Ma founded the global success called Alibaba group and he's one of the richest men in the world today (Alibaba)
Between 2018 and 2019, Ma grew his wealth from $34.6 billion to $39.8 billion, despite stepping down as the Chairman of the renowned Alibaba Group.
'A large population'
Now with some time on his hands, the money man says he has Africa in his cross-hairs.
"My personal target is to try and visit every country in Africa in 10 years and support Africa. Nigeria is a great country with a large population, very strong economy, excellent young people with excellent innovations. And this is a country.
"We also want help through four Es in Africa. The first, E list is E-infrastructure – support internet connections to everybody. We hope that every young person, every small business should have access to the internet to do business anywhere, anytime.
"The second E is support entrepreneurs, this is very important. We think we can make entrepreneurs as the heroes of the African continent. In China, the entrepreneurs promote business development and government support entrepreneurs.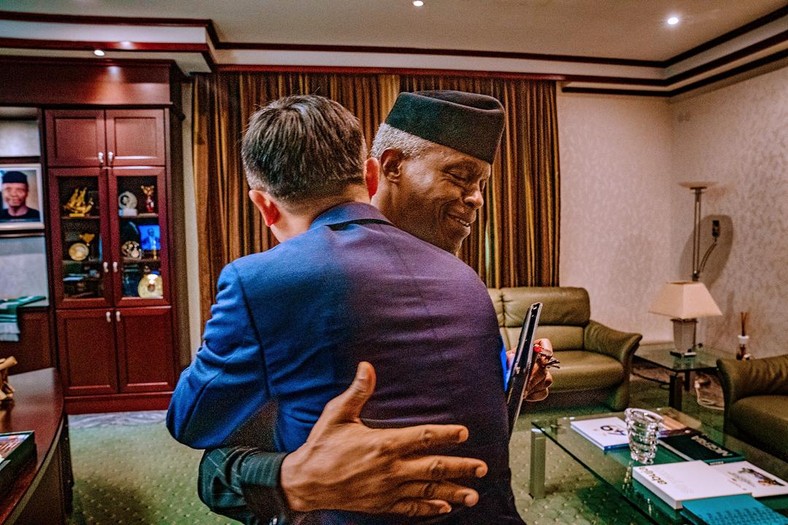 Osinbajo, Jack Ma meet to discuss opportunities in Nigeria's digital economy. [Twitter/@NigeriaGov]
"The third is E-government, if government is on E, it will be very efficient, transparent, people will know government can help and government will know what the people want. The last and very important E is education.
"In the next few days we are going to have all the internet prize, everyone in Africa can apply for award. I am happy to know that four Nigerian entrepreneurs are among the top 10. We will have the final competition in two days and I think Nigerian entrepreneurs will have great result.
"This is just the beginning. Our job is to support entrepreneurs. Everyone in the delegation, we are all founders of our own businesses in China. We think what we have experienced in China can help African entrepreneurs develop, support e-infrastructure, e-governance, e-entrepreneurs and e-education and this is what we came here for.
"We will love to have advise and know government's direction so that we can do a better job," Ma said.
In his remarks, Osinbajo said: "It was a pleasure receiving Jack Ma today at the office. Thank you for acknowledging Nigeria's role in Africa and the world.
"By leading a team of investors to Nigeria, I hope you see as we do, investment opportunities in Africa's digital economy, infrastructure and her people."
The techies have a thing for Nigeria
Ma arrives Nigeria a couple of hours after Twitter co-founder and CEO, Jack Dorsey, touched down in Africa's most populous nation to hang out with tech-preneurs, developers and influencers.
In 2016, Facebook's Mark Zuckerberg paid a surprise visit to Nigeria and posed for selfies with the nation's president and vice president.
More than half of Nigeria's population is young--a huge draw for investors and innovators in the age of internet and software technology.